The WiiWare game is making its way to the 3DS eShop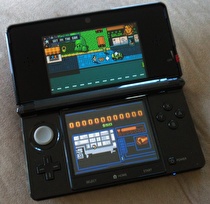 Retro City Rampage is making its way onto the 3DS, Nintendo and developer Vblank announced today.
Originally released on other platforms including the Wii, Retro City Rampage is an 8-bit style take on Grand Theft Auto that pays tribute to games of the era.
The 3DS version will include all the content from other platforms including the Retro+ Enhanced Graphics mode, though missions are being tweaked in order to work with the more zoomed in camera, due to the system's limitations. The game will not have 3D, due to its top-down view, which would require all objects to be rendered in 3D.
Retro City Rampage will be playable at PAX Prime on the 3DS at Nintendo's booth.