A trailer on the 3DS eShop reveals the NES classic's forthcoming 3DS debut.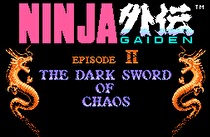 Ninja Gaiden II: The Dark Sword of Chaos is coming to the 3DS Virtual Console soon, according the Future Releases display on the 3DS eShop.
No further details are given outside of a short 30-second trailer that shows off parts of the NES game, which originally came out in 1990 and also released on the Wii Virtual Console.
The original title, Ninja Gaiden, came out on the 3DS Virtual Console in every region last year. So far, the sequel hasn't been officially announced for the 3DS in any other region.
The Ninja Gaiden series last appeared on a Nintendo system at the Wii U launch with the Nintendo-published Ninja Gaiden 3: Razor's Edge. The last portable entry was Ninja Gaiden Dragon Sword, which came out on the DS in 2008.