Weekly challenges, time trials and the Hall of Fame are what's in store with this new community.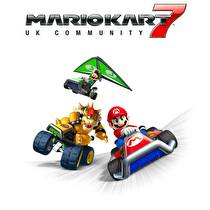 Nintendo has launched the Mario Kart 7 UK Community application on Facebook, as a community hub for weekly Grand Prix competitions and time trial leaderboards for Mario Kart 7 on Nintendo 3DS.
Beginning tonight, a new community code for a special Grand Prix will be issued every few weeks via this new app, giving UK players a chance to compete for glory and earn a place in the Hall of Fame, which will gain a new addition every month.
The first 150cc Grand Prix community is accessible with the code 28-1062-8553-7741. This will be available to race in at all times, but the main weekly competition will run every Wednesday from 7pm until 9pm BST.
The app also features time trial leaderboards. By syncing their Facebook account with their Nintendo 3DS Mii name, users can submit photographs of their best track times, and the top 3 fastest times will displayed for others to try and beat. The leaderboards for each Grand Prix will be unlocked periodically, with only the courses in the Mushroom Cup open for submission as of now.