The Pokémon developers are set to show us all how card games and horse racing mix together nicely.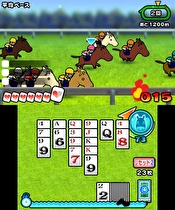 Solitiba, a new title by Game Freak, is set to arrive on the Nintendo 3DS eShop on July 31 in Japan for 500 yen. The game mixes together the game of solitaire and horse racing.
Solitiba will focus on two different phases for gameplay - a Solitaire Phase and a Control Phase. The Solitaire Phase simply has players playing solitaire while the Control Phase gives players a chance to control the path of the horse by plotting a path on the touch screen. The better game you play of solitaire, the better your horse will race. Items and power-ups are available during the last stretch of the race, including the ability to use a whip to speed up your horse. Players will also be able to train and raise their horses as well as have the ability to share them online via QR Code.
There is currently no word if Solitiba will receive a Western release.