Make way, Mario & Luigi!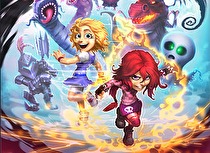 A spokesperson from Black Forest Games has said that Giana Sisters: Twisted Dreams will likely release on the Wii U eShop next month, as long as the approval process goes smoothly.
The game is a sequel to Giana Sisters DS, and was originally funded on Kickstarter last year. The first game in the franchise, The Great Giana Sisters, a Super Mario Bros. clone, was released in 1987 on the Commodore 64.