Play classic arcade and Genesis games such as Sonic the Hedgehog with added 3D support on your 3DS.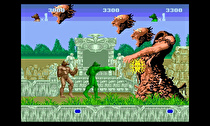 Eight 3D Classics games from Sega are coming to the 3DS eShop in North America and Europe soon, according to Sega and the Nintendo Direct from earlier today.
The titles are, similar to Nintendo's 3D Classics from 2011 and 2012, remade ports of arcade and Genesis games with stereoscopic 3D added.
The games are:
Altered Beast
Ecco the Dolphin
Galaxy Force II
Shinobi III
Sonic the Hedgehog
Space Harrier
Streets of Rage
Super Hang-On
Specific release dates haven't been confirmed yet, but almost all of the games are already available in Japan. Galaxy Force II is due out July 24 in Japan. Shinobi III and Streets of Rage are both set for a 2013 release in Japan.