Wookiees rejoice, a Star Wars game is coming to the Wii U.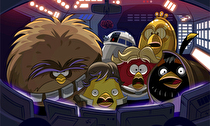 Angry Birds Star Wars is coming to Nintendo platforms in the form of a retail release.
Set to hit store shelves October 29, Angry Birds Star Wars will feature competitive and cooperative multiplayer and 20 new levels on the 3DS, Wii and Wii U. Over 25 hours of gameplay is promised in this Angry Birds retelling of the Star Wars Original Trilogy. The game will also be coming to non-Nintendo platforms and comes after the announcement of Angry Birds Star Wars II.