Midwest 3DS owners, rejoice!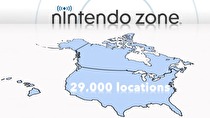 Nintendo is expanding Nintendo Zone "in a few weeks," to over 29,000 locations across North America and 25,000 locations throughout Europe.
Nintendo Zone's new StreetPass relay service allows users to StreetPass with the last user to visit that location, which will hopefully allow users to take greater advantage of StreetPass functionality.
In North America, listed retail locations include Best Buy, Simon Malls, Future Shop, Boingo hotspots, and AT&T Wi-Fi hotspots (e.g. Starbucks, McDonalds, Barnes & Noble). Users can visit http://www.nintendo.com/3ds/nintendozone to find nearby locations.