40 returning levels will greet you when starting up Rayman Legends.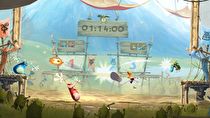 Rayman Legends will contain 40 levels from 2011's Rayman Origins as well as a new multiplayer mode, Kung Foot, according to game designer Michel Ancel.
The 40 returning levels will be available right out of the box, and can be completed at any time. There are a variety of stages included, all of which have been graphically updated to match Legends' style.
Kung Foot will turn you against your friends in a competitive game of soccer. Players will push, kick, and punch the ball around the small stage trying to score goals against the opposing team. The mode was originally made at the completion of Rayman Origins for the developers to have fun with in their office.
Rayman Legends releases on the Wii U September 3. Look forward to more Nintendo World Report coverage of the game leading up to its release.