Better start lining up outside the store now!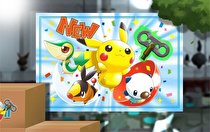 Pokémon Rumble U will be coming to the Wii U eShop in Europe on August 15 and North America on August 23. The figures will be exclusively sold at GameStop stores in North America, priced at $4 a piece. As of now, there is no confirmed distribution method for the figures in Europe.
The game features all 649 Pokémon included in Black 2 and White 2, and follows the story of a group of Pokémon toys trying to find their way back to the toy shop they came from.
Pokémon Rumble U made waves when it debuted in Japan as the first game to take advantage of the NFC function on the Wii U. Players were able to use the figures in conjunction with the NFC built into the GamePad to unlock in-game characters, although the use of figures is not required to play the game. Read our review of the Japanese version for more details.