UPDATE: All characters have been announced.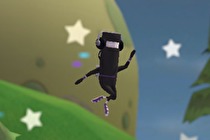 Seven new characters are being added to Runner2: Future Legend of Rhythm Alien through the "Good Friends" DLC pack.
Gaijin Games will be revealing the characters up until the launch of the DLC pack on Steam this Thursday. The console version of the pack has been confirmed, but no date has been set.
The first two characters have been revealed as Quote, from Cave Story, and Razputin, from Psychonauts. All the characters to be added have been described as "well-loved."
UPDATE: All seven characters are as follows:
Quote - Cave Story
Razputin - Psychonauts
Dr.Fetus - Super Meat Boy
Josef - Machinarium
Spelunky Guy - Spelunky
Atlas - Portal 2 (Steam Exclusive)
Invisible CommanderVideo