Gamers in Japan can get their hands on two top-notch Super Nintendo RPGs starting today.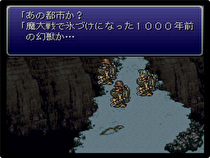 Seiken Densetsu 2, known as Secret of Mana in the West, and Final Fantasy VI for the Super Famicom hit the Wii U Virtual Console in Japan today, June 26. Secret of Mana is selling for 800 yen while Final Fantasy VI goes for 900 yen. Both games support gameplay using the GamePad, Wii U Pro Controller, and Wii Remote and Classic Controller combination.
There is currently no word as to when these titles will release on the Wii U in the West.