His body is ready, is yours?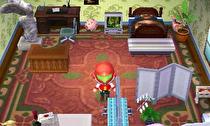 An Animal Crossing: New Leaf SpotPass featuring the in-game house of Nintendo President Reggie Fils-Aime is now available for U.S. New Leaf players.
Upon getting the SpotPass, Reggie joins the collection of homes gained through StreetPass and SpotPass in the Happy Home Showcase. Like other homes in the HHS, players will be able to go inside Reggies' house as well as place an order to purchase certain pieces of his furniture.
Reggie's house is stuffed to the brim with Nintendo-themed furniture. Check out the gallery below for screenshots from each of his rooms, and a close-up of his personal Reggie-themed bed.