UPDATE: Nintendo has listed the release date as June 27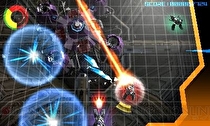 Kokuga, the shoot-'em-up from G.Rev and Ikaruga creator Hiroshi Iuchi, is launching on the Nintendo 3DS eShop in North America and Europe this June or July.
Featuring a non-linear level map and 4-player download play, Kokuga is a top-down shooter in which you operate a tank through 15 free-scrolling stages, using Attack and Support cards on the touch screen to activate special power-ups.
For more details, check out Danny Bivens' impressions of the Japanese version, which was initially released last September.
UPDATE: The game will release June 27 with a price of $14.99, according to Nintendo's official page for the game.