Luigi and Wario battle for your wallet!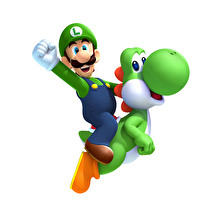 I'm convinced: Nintendo hates me. Last week we got Animal Crossing: New Leaf. This week we get a new Luigi game, a new Wario game, and a new farming simulator. Somehow I'll have to find it in my heart to only choose two of those, but which two? Bust out those credit cards my friends, because there's something for everyone this week.
3DS eShop Sales
Super Little Acorns 3D Turbo - $3.99
Wii U eShop Sales
3DS eShop Retail Games
Project X Zone (Available 6/25) - $34.99
Mario & Sonic at the London 2012 Olympic Games - $39.99
LEGO Legends of Chima - $29.99
3DS eShop Games
Designed by former Mega Man visionary Keiji Inafune to be the second entry in the Guild 02 collection, BUGS vs. TANKS! is just what it sounds like: you're a tank that fights bugs during World War II. If you're looking for something complex and deep then look elsewhere, but if you want to shoot giant bugs with military ordinance then you've come to the right place.
Yeah I know, I'm also sick of all the dumb story in games like Harvest Moon getting in the way of the actual farming. Finally someone has come to satisfy the farming enthusiast, and in three dimensions! According to Nintendo you can farm "crops of wheat, corn and rape." I'm not sure what that third one is, but I'm certainly curious.
3DS Virtual Console
The sixth time is the charm in Mega Man's final NES adventure! Try your luck against the newest bout of terrible robot masters like…Plant Man? Well, maybe that was a bad example. Either way, Mega Man fights his way through the first annual Robot Masters Tournament, but can he take home the gold?
Forget that shoddy 3D Sonic from the Genesis version, Sonic Blast on Game Gear has just what I crave: classic 2D Sonic platforming! For the weak-hearted, Sonic Blast offers a double jump and the added bonus of only losing a few rings when hit instead of the whole treasure trove.
You know all those nice things I said about Sonic before? Forget them. Tails is where it's at. Fly through 12 levels as the best two-tailed fox sidekick under the sun: Tails! It's apparently a puzzle platformer or something weird.
Defenders of the Oasis - $3.99
I just can't find it in my heart to trust wizards anymore. Not after what that jerk Ahriman did to the land of Shanadar. If you're like me, you'll be chomping at the bit to recruit a party of adventurers and go punch his sparkly wizard hat down his throat in Defenders of Oasis, an apparently solid Japanese RPG on Game Gear.
Wii U eShop Games
Move over Mario, it's time for the lean, green, plumbing machine. Luigi is finally here to ramp up the difficulty as well as the color palette. With only 100 seconds on the clock and Luigi's signature leg-flapping wreaking havoc, this expansion to New Super Mario Bros. U will surely satiate the sadists out there.
Game & Wario (Available Midnight 6/23)- $39.99
Wario is back in this departure from the WarioWare formula. Break out that gamepad for more oddball action with 16 minigames. As stated in our Japanese review (the North American review goes up tomorrow morning!), there are definitely some gems to be found amongst the pile of average minigames. Find out for yourself in just three short days!
Wii U Virtual Console
They weren't always "super," you know. Before the Mario Bros. were flying, hopping, and throwing boomerangs they were just two dudes that hated turtles and crabs. Grab a friend and smash some shells in this arcade classic.
Did you know that before they took up the plungers the Mario Bros. worked construction? That's right, tear down 100 buildings as your favorite Italians in Wrecking Crew!
DSiWare
Rhythm Core Alpha 2 - $9.99/1000 Points
The second entry in the Rhythm Core Alpha series adds a whole bunch of features that sound cool. Things like "Portamento," and "Vibrato." I'm not sure what those words mean, but if you're the musical type you may want to check this one out!