Nintendo enters the free-to-play market with Steel Diver.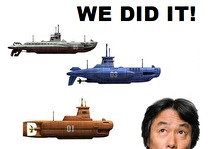 Nintendo's first free-to-play game is going to be Steel Diver.
First talked about during Nintendo's E3 Analyst Briefing, Shigeru Miyamoto, creator of Mario and Steel Diver, revealed to IGN that Nintendo's first venture into the realm of free-to-play gaming would be Steel Diver. Not a direct port, this Steel Diver game will feature a new four player battle mode, and in his words, "It's going to be very fun."
It is not yet known how Nintendo will profit from the game, whether it be micro-transactions, or membership, but the game will eventually be released in a packaged form, though no system has been announced. Even though no release date was given, Miyamoto says, "It's something that we're hoping to be able to show relatively soon."