No comment on exactly what those "customizations" are.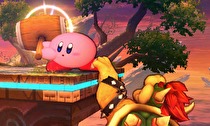 Masahiro Sakurai revealed in a recent interview with Joystiq that the upcoming Super Smash Bros. on Wii U and 3DS would not feature cross-platform play, but certain character customizations will be able to be transferred between platforms.
While he didn't comment further on what kind of customizations, he did say that "they won't be costumes and they won't be something they players have to unlock through repetitive tasks."