The procedurally generated platformer will be coming to your favorite 3D handheld!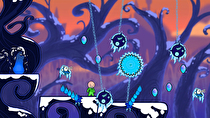 NWR's very own Jonathan Metts discovered during his time playing Cloudberry Kingdom on the show floor that a 3DS version of the game is in the works at Pwnee Studios. This is after much past speculation over whether or not the multiplayer, procedurally-generated platformer would make it to the handheld.
There is currently no word on when the 3DS version will be released. Kickstarter backers who supported the game's funding campaign last year will be able to redeem their Wii U copy of the game when it comes out later this summer.