CORRECTION: A joke about what Luigi looks like in the new Cat Suit got a lot of people reminiscing about the classic Mario power-up.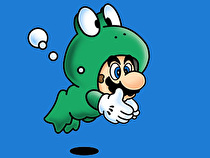 Correction:
In the original story below, we reported that the Frog Suit was making a return to Super Mario 3D World on the Wii U. While the Nintendo developers did mention the Frog Suit when presenting the game, it was only as part of a joke. The presenters were pointing out how Luigi looked like in the new Cat Suit (all green), how it reminded them of the Frog Suit, and how it would be funny if that was also part of the game.
So while the developers seem to have the Frog Suit in mind, eager amphibians will still need to wait for a full confirmation. Nintendo World Report will keep its eyes out for any developments as they hop onto the scene.
Original Story:
The Frog Suit power-up, which made its first appearance in Super Mario Bros. 3 on the NES, will appear in Super Mario 3D World, as confirmed during a Wii U software presentation at E3.
According to IGN, while donning the Frog Suit, Mario and company will be able to extend out a long tongue to eat enemies, similar to Yoshi. It is unknown if the power-up will also improve the characters' swimming abilities, which was its primary function in SMB3.
This is the third suit to be confirmed for the game, following the reveal of the Cat Bell and Fire Flower at the game's announcement. Super Mario 3D World is coming to Wii U in December 2013.