The Director's Cut is coming to the 360, PS3, PC, and Mac.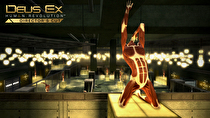 Square Enix has confirmed that Deus Ex: Human Revolution Director's Cut is no longer exclusive to the Wii U, and will be releasing on 360, PS3, PC and Mac.
This is frustrating news for Wii U owners who were told that this version of the game would have features only capable on the Wii U. This begs the question: was that simply not true or are the Wii U specific features being ported to the other systems somehow?