Island hopping and vikings! What's not to love?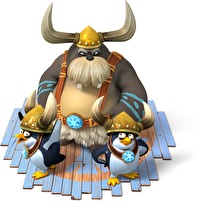 In a developer interview on Nintendo's YouTube channel with Kensuke Tanabe, it was revealed that, in addition to Diddy and Dixie, there is still a third unannounced playable character.
Tanabe also detailed a new plucking and throwing mechanic, similar to Super Mario Bros. 2, and showed how plucking certain items can also be used to solve puzzles.
He also spoke about the new camera rotation present, which breaks from the series' tradition of using only 2D planes. This allows the camera to pan around as the player moves through the level to reveal new areas.
Tanabe's team wanted to use powerful water-focused animals in the game, which led to their choice of seafaring vikings as enemies. The game will focus on this water theme by having players hop from island to island as they progress throughout the game.