The ex-Artoon and ex-Sega developers will be adding Mega eggs, gyro mechanics, and a variety of art styles to the platforming franchise.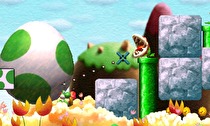 Relatively young studio Arzest is the developer responsible for bringing the third entry in the "Yoshi's Island" series to the 3DS.
Yoshi's New Island looks to continue the side-scrolling platform gameplay its predecessors are known for, including iconic mechanics like the hovering flutter-jump, the ground pound, and throwing eggs. However, new giant-sized Mega Eggs can be used to destroy objects and reveal new items and pathways, and players can use the 3DS' gyro sensor to move the system around to not only aim Mega Eggs, but uncover hidden areas. The game will feature a variety of art styles throughout, including oil painting, watercolors, and crayon.
But the relatively unknown studio has a serious pedigree: it was founded by staff from the now defunct Artoon development studio (responsible for the previous Yoshi's Island DS) and ex-Sega staff with connections to both the Sonic and Panzer Dragoon franchises. They've been credited with contributing to several Nintendo projects before, including Wii Play: Motion and StreetPass Mii Plaza.
The game is slated for release on the Nintendo 3DS in 2014.