Maybe she can get Mario to drop some pounds?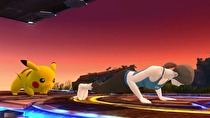 During Nintendo's E3 software showcase, Sakurai confirmed that the female trainer from Wii Fit U will be playable in the new upcoming Smash Bros. game for Wii U and 3DS.
Other characters confirmed today for the game include Mega Man and Villager from Animal Crossing.