You can finally go for a nice refreshing dip in the vault.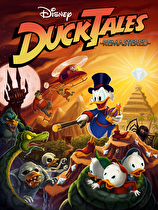 Some new details have been released about WayForward's upcoming DuckTales: Remastered, releasing this summer for Wii U.
DuckTales: Remastered will feature an all-new tutorial level that will teach players how to properly use the pogo jump and cane swing that Scrooge McDuck uses.
There will be a museum that players can visit to check leaderboards and achievement progress, as well as a playable Money Bin that allows players to check how much money they've accumulated and (finally!) take a swim through the cash. Just like Uncle Scrooge!