You can now use Miiverse to campaign for Wii U Music.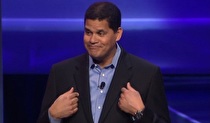 An E3 2013 Miiverse community is available for a limited time, and to celebrate, a Nintendo of America President Reggie Fils-Aime Mii character has been sent to Wii U owners
The Reggie Mii can be downloaded through Mii Maker after receiving the notification. Like a few other special Mii characters, he sports golden pants. The Nintendo@E3 2013 community is already active with many people making requests for different games to be announced. Miiverse can be accessed through the Wii U and the official Miiverse website.