Making the demon-filled world a friendlier place!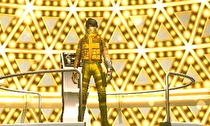 The upcoming Shin Megami Tensei IV, coming to 3DS July 16, will have free DLC available to aid new players.
The Platinum Surcoat will boost early game stats, and players will be able to change their avatar's look with three new hairstyles.
Also at launch will be a $2 map pack suitable to help new players gain experience and collect demons exclusive to the map pack.
After the first month is over, the armor will cost $1 and the hairstyles will remain free.