If you are still missing your Cube controller on your Wii U, this adapter may help you out.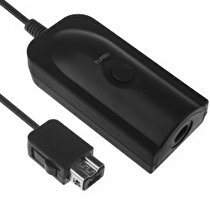 A new controller adapter from the company Mayflash lets users connect their GameCube controllers up to the Wii U.
The adapter allows the GameCube controller to be used on games that support the Wii Classic Controller and the Wii Classic Controller Pro. The adapter also has a built-in turbo function which can be customised to work on the A,B,X,Y,L,R and Z buttons.
The adapter is currently listed on Amazon for $18.99.