Just how much of the speedy hedgehog can you handle?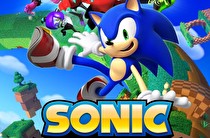 All three Sonic The Hedgehog games in Sega's recently revealed partnership with Nintendo will launch within this calendar year, according to Nintendo Germany.
The partnership, which was announced at the Nintendo Direct presentation last month on May 17, consists of Mario & Sonic At The Sochi 2014 Olympic Winter Games, the latest crossover title between the portly plumber and the blue blur, and Sonic Lost World. The third game is expected to be unveiled shortly.
These titles are all coming out exclusively for Wii U and Nintendo 3DS.