Pink Puffballs on Parade.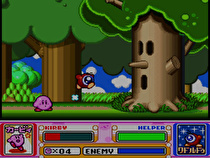 If you just can't get enough Kirby then Nintendo has your back this week. We're treated to not one, but three of the best Kirby games under the sun, and if you buy two of them you get the last one for free. I'm going to be buried under pink fluff for the remainder of the week! If that's not enough for you there's also gorillas in neckties, men in bodysuits, and dancing demons.
3DS eShop Sales
The Denpa Men: They Came By Wave - $7.99
Wii U eShop Sales
Buy two of this week's Kirby games, get one free until May 30
3DS eShop Retail Games
Donkey Kong Country Returns 3D - $34.99
Naruto: Powerful Shippuden - $34.99
3DS eShop Games
Sometimes I wish I was a cute demon on a funky adventure…Looks like I can once again live vicariously through video games! For four bucks you too can moonwalk your way through thirty levels and search for Golden Notes. Crows and frogs got nothin' on Rhymi's killer dance moves.
Wii U Virtual Console
I get it, you just want to relax with a nice game of mini-golf. Well your buddy Kirby is here for you. You can drive, chip, and putt your favorite pink puffball all over the place in this 64 hole behemoth of a golf game. Besides, when was the last time your golf ball absorbed a small creature and obtained special powers?
Kirby Super Star is the variety show of Kirby games. You want mini-games? Done. What about an arena? You got it. Maybe you just want a regular main story mode. Well it has six of them. Even those with the most severe ADD will be able to enjoy this game.
Is there anything Kirby won't eat? Find out for yourself! Dream Land 3 is one of the better Kirby games around, and what better way to fulfill your glutinous fantasies than ravaging the countryside and eating everyone in sight? In this entry Kirby retains his signature power-stealing abilities and even teams up with some local wildlife to put an end to King Dedede.