Virtual Console releases on Wii U keep a steady pace.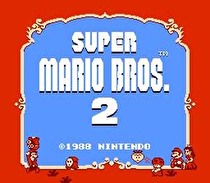 This Thursday, May 16, will see three popular games released on the North American Wii U Virtual Console.
The NES American classic Super Mario Bros. 2 (SMB2) is seeing VC release for $4.99. The "real " SMB2 was deemed too hard for American audiences so the game Doki Doki Panic was redone with Mario characters and took the SMB2 name. The original was eventually released in North America as Super Mario Bros. The Lost Levels.
Capcom's SNES game Super Ghouls'n Ghosts, the third entry in the Ghosts'n Goblins series, is also being released for $7.99. It is not the lone SNES title because Nintendo's Super Metroid is also being released for 30¢ as part of Nintendo's celebration of the 30 anniversary of their original Famicom (NES) system. Players will get to re-embark on Samus' journey in what many consider to be one of the greatest games of all time.
Gamers who previously bought either SMB2 or Super Ghouls'n Ghosts on the Wii VC and transferred that data over to their Wii U should expect to see discounted prices for these upcoming releases of the software: $1 for the NES title and $1.50 for the SNES game.