Mario and Donkey Kong ditch Pauline for adventure!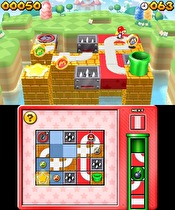 Here we are, another week gone past. How have things been since we last spoke? Shut up, there's no time for chit chat! We got downloads to discuss! First up, Mario and Donkey stop the cussin' and hollerin' in Minis on the Move for the 3DS eShop. Try out Resident Evil: Revelations on the Wii U, or pick up Xevious and Solomon's Key on the Virtual Console. If you think you can run Nintendo better than anyone, check out Publisher Dream on DSiWare. That's all for now, see you next week! I already miss you!
Wii U eShop Sales:
Chasing Aurora - 50% Off Until May 16
Wii U eShop Demos:
Resident Evil: Revelations (Available May 14)
Wii U Virtual Console:
Dude, if you're stumbling over the title, watch out for the name of the ship! Pilot the Solvalou and take out the enemy forces ahead and below you. The title isn't the only hard thing about this game, things can get pretty brutal in this early vertical shooter. But have faith and remember, only you can destroy the Xevious army!
I'm not sure what I would do if I could conjure up cubes out of thin air, but it likely wouldn't be poking my head where it doesn't belong! But Dana is far more a man than I. He sets out to retrieve Solomon's Key and restore peace to his world. Across 64 stages, Dana will create and destroy boxes, all in hopes of obtaining a key to the next room of torturous puzzles. Me though, I'm just going to stay home and use my powers to build an addition to my house or something.
3DS eShop Games:
Mario and Donkey Kong: Minis on the Move - $9.99
If you were to ask them, I'm sure Mario and Donkey Kong couldn't even tell you where their rivalry began. Looking back, it's silly to think it was all over a woman named Pauline. But, they both thought her to be quite special, so much so that their battle for her affection lasted up until 2010's Mario Vs. Donkey Kong: Mini-Land Mayhem!. But, the two came to their senses, and decided to team up..."buddy-cop" style. Together, they must plot out paths for the helpless minis to follow. Throughout 180 stages, Mario and Donkey Kong push their relationship to the limit, and in the end learn they may not be so different after all. Interested? Check out Neal's review!
SpeedX 3D Hyper Edition - $2.99
We must have missed a Champion Edition somewhere between SpeedX 3D's original release and now, but regardless, Hyper Edition is here and is an enhancement upon its predecessor. What's new? I'm glad you asked. Hyper Edition brings along new music, improved controls, and...get this...it makes the game even faster. Can your eyes handle it? Give SpeedX 3D Hyper Edition a try and see, but don't be too upset if your eyes cannot handle it, blinding you in the process. It's not like I twisted your arm or anything!
DSiWare Games:
I see you on Twitter, throwing shade at Nintendo for not running things your way. Maybe it's time you stepped up to the big boy table, see if you've got what it takes. In Publisher Dream, it's your job to develop games for the cShop, a digital platform. Will your decisions lead to riches or ruins? Does localizing every single game out of Japan even make any sense? It's time to put your money where you mouth is.