Hot Damrey does this look good.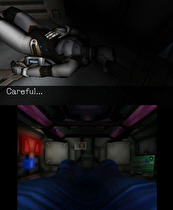 Starship Damrey, one of the three upcoming titles belonging to the Guild02 series, is due May 16 in North America.
The 3DS eShop title puts players in the space boots of an individual who has just woken up in a cold sleep capsule. With no knowledge of your surroundings, players explore the Starship Damrey from a first-person view in an effort to make sense of the situation. The game comes from Kazuya Asano, who previously worked on early Dragon Quest titles, and Kazuya Asano, the director of Kamaitachi no Yoru (The Night of the Sickle Weasel). Interestingly, Kōtarō Uchikoshi (writer and director of 999 and Virtue's Last Reward) noted that The Night of the Sickle Weasel was an inspiration for his work.
The remaining titles in the Guild02 series, Bugs Vs. Tanks and Attack of the Friday Monsters! A Tokyo Tale, have not been dated for release. Currently, all Guild01 titles (Liberation Maiden, Aero Porter, and Crimson Shroud) are on sale in the 3DS eShop.