Those hoping for a May 7 release will be sorely disappointed.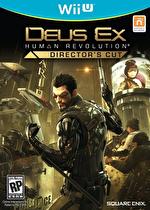 Deus Ex: Human Revolution Director's Cut is still slated for release on Wii U soon, but it will not be coming out on May 7 as originally reported.
A Square Enix representative confirmed to us that the game's release date is currently unconfirmed and is not May 7. Retailers were the main reason the early May launch seemed likely, as Square Enix has consistently labeled the game's release as 2013, and nothing more detailed than that. Check out our impressions from PAX East 2013 for details on the changes made in the Director's Cut, which will be exclusive to Wii U.
For those keeping score, Injustice: Gods Among Us was the only Wii U retail release in April, meaning that from March 20 to May 20, only one new Wii U game will have been launched in stores.