The black box finally opens up and reveals... what we expected!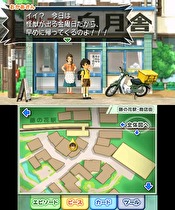 Level-5 is bringing the three Guild02 titles to the Nintendo 3DS eShops for both Europe and North America.
Keiji Inafune's Bugs vs. Tanks where insects are fought with tiny tanks during World War II. You can read our Japanese impressions here. Attack of the Friday Monsters sees players fighting monsters. The Starship Damrey is an adventure game set in space where players take the role of an amnesiac.
The titles are currently listed as ''coming soon'', with no further information given.