No tea-tables "officially" upended.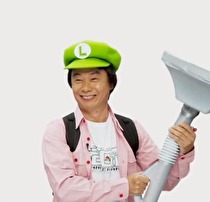 The original bosses of Luigi's Mansion: Dark Moon were thrown out by Shigeru Miyamoto.
Known for his "upending of tea-tables" (making dramatic changes during the development process) Miyamoto canned the original bosses and had Next Level Games create new ones early in development. This was revealed in an interview with the developers of Luigi's Mansion: Dark Moon on IGN.
Next Level Games' Brian Davis notes that the studio had only one boss that had been completed, but the others had been designed. "What he wanted for that was, he wanted bosses that could only be in Luigi's Mansion," Davis tells IGN. "If you saw a boss, you'd say, 'That's a Luigi's Mansion boss!' I think that was the right choice. It allowed us to be very creative."
Luigi's Mansion: Dark Moon is available now on the 3DS. You can read Neal's review here.