The developer has confirmed several problems and is working on a patch.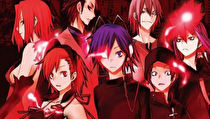 The European version of Shin Megami Tensei: Devil Survivor Overclocked is said to contain a number of serious game-breaking bugs.
The problems were confirmed by developer Ghostlight on their official blog, after several reports from players who had encountered these bugs cropped up following the game's European launch on March 29. According to the studio, the game will crash if the player summons a demon during battle or if certain events occur in the game's Auction House, both of which could potentially prevent the completion of the game.
Ghostlight later stated that they had contacted Nintendo and the game's original publisher, Atlus, and that they were working hard to fix these issues. The team is hoping that a patch will arrive in the near future, although no definite date has been provided at this time.
Shin Megami Tensei: Devil Survivor Overclocked is a 3DS port of a Nintendo DS RPG first released in 2009. The European release, which comes nearly two years after the Japanese and North American launches, was the first time Devil Survivor had been released in any incarnation in the region.