Where a gauntlet lets you conjure demons to do your bidding, not tell you how badly a wizard needs food.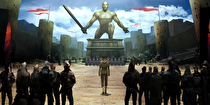 Shin Megami Tensei IV will arrive in North America this summer according to publisher Atlus. The 3DS title is a Japanese RPG that casts players as demon-controlling samurai, sent out to rid Tokyo of the evil that has taken over.
The series, which also spawned the popular Persona series, last appeared on Nintendo hardware with Strange Journey, a first-person dungeon crawler for the DS. While that entry was 2D, Shin Megami Tensei IV is a fully 3D affair, with navigation taking place in third person. Additionally, the forthcoming release will featured voiced dialogue, StreetPass functionality, and much more.
Shin Megami Tensei IV marks the first proper installment in the series since 2004's Shin Megami Tensei: Nocturne, and casts players as an 18-year-old boy from a country known as East Mikado. As part of an elite group of samurai, he and his partners are able to summon demons with a gauntlet. These demons can be brought into battle to fight alongside the party, and fused with one another to form new ones. They can be attained through conversation, as in battle, players can try to recruit by talking to them and making them happy.
Shin Megami Tensei IV is expected to release this summer on the eShop and in stores.