Game & Wario turns the Miiverse into a microgame.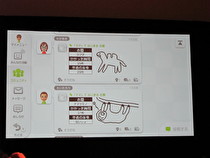 Game & Wario will include a Miiverse-centric feature called Miiversketch, which tasks players with quickly drawing items from memory.
During Kiyoshi Mizuki's Nintendo Miiverse GDC talk, the developer revealed Miiversketch, a Game & Wario mode that makes use of Miiverse's in-game message board system. In Miiversketch, players are instructed to draw a particular item within a short window of time. After the time has elapsed, the sketch will be posted to a dedicated board on Miiverse.
One example had players drawing King Tut within 60 seconds. Other examples included directions to draw a camel and a sloth.
Game & Wario launches in Japan tomorrow, March 28. It is expected to arrive in the west within the next few months.