The Director's Cut marks the series' debut on Nintendo platforms.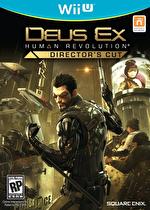 An Amazon listing reveals that Deus Ex: Human Revolution will come to the Wii U later this year in the form of a director's cut.
A profile for the game went live on Amazon earlier today, complete with Wii U-specific box art and a release date of May 7.
The enhanced port is said to feature a "multitude of improvements, features and additional content" over the 2011 original, including the use of the Wii U GamePad touch screen with a new augmentation called the "Neural Hub."
Last week, Square Enix teased an unnanounced Wii U project set to be revealed at PAX East. It's looking likely that this is indeed the mystery title.