Gamers in Japan can get their NFC fix on the Wii U next month.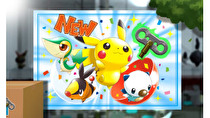 Pokémon Rumble U, known as Pokémon Scramble U in Japan, will make use of NFC figures in the game, CoroCoro magazine reports. The game is scheduled to go on sale in Japan on the Wii U eShop on April 24 for 1,800 yen.
An initial total of six figures will be sell for 200 yen each. It is currently unclear which Pokémon figures will be available when the game releases, but Pikachu appears to be one of them. The figures will make use of the Wii U GamePad's built in NFC function in order to implement the figures into the game. The figures can not only be read by the NFC readers and put into the game world, but also have the potential to be raised in game and have its progress saved to the figure.
There is currently no word as to when Pokémon Rumble U will come to the West.