Big bugs and spooky ships may find a home in the west.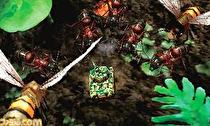 Level-5 has filed two trademarks in the US that appear to be localized titles of games that appear in their upcoming Guild02 series.
The trademarked titles are Bugs vs Tanks (likely Keiji Inafune's Insect Tank) and The Starship Damrey.
Insect Tank puts players in control of a miniature tank during World War II, pitting them against giant insects. The Starship Demrey is in development at Level-5, with Kazuya Asano and Takemaru Abiko at the helm. The two have previously worked together on sound novel games for Spike Chunsoft.The Starship Demrey puts you in the shoes of an amnesiac who is unaware of their surroundings. Media and story is being withheld from the public so as to keep the game's revelations a surprise.
Notably absent from the trademarks is Monsters Come Out on Friday, the third Guild02 title. Developed by Kazu Ayabe, it stars a young boy named Sota who lives in a small Japanese town that becomes overrun with giant monsters and heroes each Friday. The period and setting is typical of Ayabe's work, his previous work for Millennium Games was the My Summer Vacation series, which took place in rural areas during the 1970s and 80s.
While a lack of a trademark for Monsters Come Out on Friday seems troubling, TinyCartridge.com points out that Guild01 title Aero Porter did not receive one either, and released in North America regardless.
All three titles will be released on Japan's eShop (Guild01 was originally a retail release before its games were released on the eShop). No announcements have been made for a release in North America or Europe.