Swashbuckling adventures and hood wearing awaits!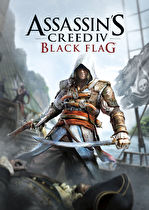 Assassin's Creed IV: Black Flag has been officially confirmed to be hitting the Wii U.
The new installment in the popular franchise takes place in the beginning of the 1800s. You play as former British privateer, now pirate, Edward Kenway, who happens to be the grandfather of Connor from Assassin's Creed III. Players will embark on a journey spanning as many as 50 locations in the Caribbean along with three cities: Havana, Nassau and Kingston. Naval combat will play a big role in Black Flag and ships will be upgradeable along with Kenway.
The new game is looking to be a massive one, as shown by the eight developers working on it. No release date has been announced.