After waiting a very long time, we can finally enjoy it.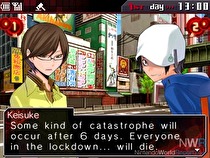 Shin Megami Tensei: Devil Survivor Overclocked will see a European release on April 5. This is what the European publisher Ghostlight has announced.
Devil Survivor Overclocked is an updated version of Shin Megami Tensei: Devil Survivor, originally released for the Nintendo DS. It is a tactical RPG where players can take control of up to four squads lead by the main characters. They summon demons into battle for support.
The game originally came out in North America on August 11, 2011. For more information on the game, check James Jones' review of Overclocked.