Renegade Kid sure loves its mud.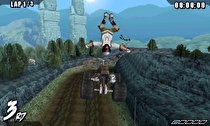 The 3DS eShop gets its quad on next week, as Renegade Kid's ATV Wild Ride 3D has been dated for March 5. The arcade styled racer will arrive in North America with a price tag of $7.99.
Originally released as a retail game for the DS, ATV Wild Ride 3D is a remake for the 3DS eShop. The game packs 24 tracks spread across the world, from Canada to Russia. As players make their way around the course, tricks can be performed to earn nitro for some extra speed. Multiplayer is available both online and local.
This marks Renegade Kid's fourth 3DS eShop title. The developer has Mutant Mudds Deluxe coming to the Wii U eShop later this year, with a sequel to Mutant Mudds scheduled to hit the 3DS eShop in 2014.