The next wave of unique games is coming.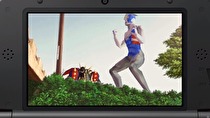 Guild 02, consisting of three games, will be exclusively released in the Nintendo 3DS eShop and sold separately, President Iwata reported in today's Nintendo Direct. Guild 02 is the second installment of the Guild series, whose first installment, Guild 01, was originally as a retail package consisting of four games (and the demo of Time Travelers) in Japan. Later, all four games were released digitally on the eShop in there, while three of the four titles (minus Rental Bukiya de Omasse) were released in the West.
Uchusen Damrei-go (Spacecraft Damrei, originally called Alone), is a 3D first-person suspense adventure by Takemura Abiko and Kazuya Asano. The protagonist has amnesia, which is often the case with Japanese games, but this game goes even further. Just like the protagonist, you will know nothing at first. The game will start with no goal or control instructions given. Players will have to grope literally everything to get out of the ship.
Mushikera Sensha (Wormy Tank), which is reminiscent of the Earth Defence Force series and Tank! Tank! Tank!, is a survival panic action game being created by Keiji Inafune. Players will be put in control of tiny tanks and fight against insects to survive. Kaiju ga Deru Kinyōbi (Fridays Monsters Appear), by Kazu Ayabe, will simulate the life of a boy Sota, living in fictional 1970's Japan where Monsters appear and an Ultraman-like hero battles with them.
Their release dates or prices for these titles have yet to be announced.