Square Enix also revealed a special Wii U console bundle and DQX beta test starting date!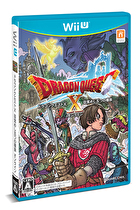 Dragon Quest X: Itsutsu no Shuzoku is scheduled for release on March 30 in Japan, Square Enix revealed via the official Dragon Quest X website. The game will be available as a physical retail copy or a download for 6,980 yen. A special Wii U Premium Set, priced at 42,000 yen, will also be available, containing the Wii U version of the game, a Wii U Pro Controller (black), a 1,000 yen Nintendo prepaid card, and an item code for five of the in-game item, "chō genki dama (super energy ball)."
Beta testing for Dragon Quest X will open on March 6 in Japan. Players who purchased Wii U Premium Sets will need to utilize the special registration code included to access the beta test. Aside from having the code, players will also need a broadband Internet connection and a Square Enix account.
Dragon Quest X was released on August 2, 2012 for the Wii in Japan. To read more about the Wii version of the game, be sure to check out Matt Walker's impressions.