Birds and Beans will eat hours of your life. Turn back now!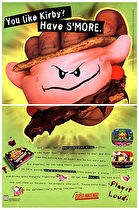 Club Nintendo is now offering Paper Mario, Kirby Super Star, Birds and Beans, and Metal Torrent as downloadable rewards. All four titles are available until March 10.
Paper Mario, available on the Wii Virtual Console, can be claimed for 200 Coins and originally saw release in 2001 for the N64. The first of the Paper Mario series tasks players to rescue the seven Star Spirits to bring an end to Bowser's plans. Along the way, Mario will recruit several partners, and together they will embark on this turn-based, RPG adventure.
Released in 1996 for the SNES, Kirby Super Star is a platformer starring one tough cream puff. As its boxart exclaimed, Kirby Super Star is "8 Games In One!", one of which is a remake of Kirby's Dreamland for the Game Boy. It can be purchased for 150 Coins.
Birds and Beans is a DSiWare title, and a remake of an unlockable found in WarioWare: Mega Microgame$. Players control Pyoro as he extends his tongue to catch falling fruit. The tongue can only shoot out diagonally, so proper aim and timing is crucial. It can be snagged for 100 Coins.
Metal Torrent is a vertical shooter from Arika, the studio responsible for Endless Ocean and Dr. Mario Online RX. The hook of this shooter is the metal cubes that fall from defeated enemies, which must be collected to increase your score (which can be uploaded to an online leaderboard). It is available for 150 Coins.