Your January dreams of using your GamePad to look at your house are dashed.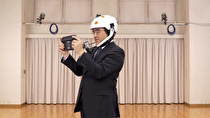 The Google Street View application for Wii U is now named Wii Street U, and is coming to Japan in mid-February, according to Nintendo's latest results briefing. The app is slightly delayed from its original January release window.
Originally revealed in a December Nintendo Direct, Wii Street U was previously slated to be free from January to March. It is unknown if that period will be extended to accommodate for the delay. The novel part of the app is that it will use the gyro sensor in the GamePad to allow people to use Street View in 360 degree panoramic fashion.
While a version for both North America and Europe is on the way, it is likely they will come out, at the earliest, in the mid-February alongside the Japanese release, or shortly after.