It's pretty wet and wild this week in Nintendo Downloads.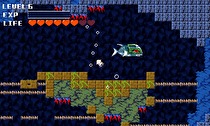 There's nothing better than a week of Nintendo Downloads where I can find a theme shared between at least two of the releases. But here I am, looking at a week where liquid is a prominent factor (the theme is shared between Ikachan for the 3DS eShop and Puddle for the Wii U eShop), but so is...I dunno, "scary" (something both Witch's Cat and Bloody Vampire have in common). So here I stand, surrounded by riches, oh, and 99Moves for DSiWare. It's very clear I won't be so lucky for weeks to come.
3DS eShop:
These game developers, they really know how to make you feel like a bag of dirt. During my break periods at work, I just play my 3DS or eat some chips. Meanwhile Daisuke "Pixel" Amaya takes a break while developing Cave Story and makes another game. As bummed out as I feel, Ikachan will change all that. As the titular squid, it's your job to save your fellow citizens from the rule of a mean fish named Ironhead. Make sure to read Guillaume's review of this Metroid-styled action game.
Get ready for some Castle mania with Bloody Vampire, where any similarities to Konami's monster franchise are purely speculation on your part. Aid Latis, a half human half vampire, on her quest to destroy the rumoured vampire lord that's holed-up in some castle. It may seem impossible, but the vampire half of you has some tricks up its sleeve. Players can cast for types of magic (fire, ice, lightning, and dark), as well as transform into a bat and a werewolf. I'm beginning to wonder of that evil vampire's name is Sital...
Considered a spinoff of the DSiWare's Rabi Laby series, Witch's Cat looks to play quite similarly. If you have no idea what I'm talking about, then have I got the paragraph for you! Witch's Cat stars both Alicia and Dubois; a transforming cat and a witch with ulterior motives, respectively. Composed of 50 stages, players use the abilities of both characters to unravel the puzzles in the environment and make their escape.
Wii U eShop:
Puddle has two things working against it; for starters, it may remind you of early aughts "sensation" Puddle of Mudd, and secondly, it is going to face a lot of comparisons to Fluidity from the Nintendo crowd. But if Patrick's review is to believed, neither claim is true. Puddle has you move a liquid across hazardous areas, and relies heavily on momentum and your own quick thinking. The materials you handle add to the difficulty; water is one thing, nut Nitroglycerin requires a fair bit more care.
DSiWare:
Steer yourself through transforming mazes in this mind-bending action-puzzler. But there's a catch! You've only got 99 moves to do it. There's no time or movements to waste! Think fast and act even faster.
Wii U eShop Demos:
The Cave
3DS eShop Virtual Console:
Debuting on the NES in 1985, Ice Climbers is a vertical platformer starring Popo and Nana. With a wooden mallet in hand these young adventurers must climb over thirty mountains in order to topple the most fearsome of foes; a giant condor! This release Aldo means 3DS Ambassadors will be able to update their free copy for that Restore Point goodness.
Wii Virtual Console:
Originally released for the MVS arcade platform in 2002, Metal Slug 4 is just what you'd expect from the series; guns, explosions, and gore. For the uninitiated, Metal Slug is a sides rolling action title that casts you as a one man army. Shoot, slice, and generally destroy everything in your way. So what's new? 4 brings new weapons, new vehicles, and even scientists who turn you into a gun-toting monkey.