Better implemention of favorite communities, posts and buttons ahead!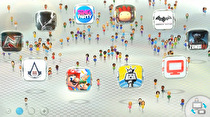 Nintendo has updated Miiverse this morning worldwide, giving the service some new small functions.
Favorite communities are now displayed in the dedicated communities menu, which were located in the profile settings before the update. Every community has a fresher button lay-out, with easy clicks to the Nintendo eShop, settings, new posts and popular ones. There is also a new mysterious button for ''Other communities'', though this is grayed out at the moment.
In addition to the community features, finding the right emoticon for your Miiverse message has become easier. Your options will be displayed right before your eyes, instead of clicking on your Mii. To see everything in motion, check out the video below.